Service Schedule
Sunday School.................9:45a.m.
Our Sunday School is divided into classes by age group and provides a time of Bible study for everyone. Each class is age appropriate in its approach to the study of God's Truth.
Sunday Morning.............11:00a.m.
Our Morning Worship Service is devoted to the glory of God and involves congregational singing, music specials, and the preaching of God's Word. To read about our philosophy of worship click here.
Sunday Evening................6:00p.m.
Our Sunday Evening Praise Service maintains all of the Morning Service activities with an added time of praise for the sake of personal encouragement and Divine glory. Those who feel led of God give brief testimonies regarding the blessings that God has granted within the past week.
Wednesday Evening.........7:30p.m.
Our Wednesday Evening Prayer Meeting involves singing and preaching. We devote a part of the service to prayer requests, followed by a time of prayer. We commit ourselves to pray for one another's burdens throughout the following week.
When visiting our church you will find our services to be filled with a friendly and loving atmosphere. Visitors are always greeted with warm smiles and handshakes while taking part in worship services that seek to honor the love and grace of God. Some of our people often stay for a time of fellowship and conversation after the services, and we consider each other to be friends as well as co-laborers in Christ. We welcome you to join us in one of our services and hope that you will be both encouraged and challenged through the preaching of God's Word as we worship the Lord together. We would be honored to meet you and hope that we can be a blessing to you as we minister to one another in the love of Christ.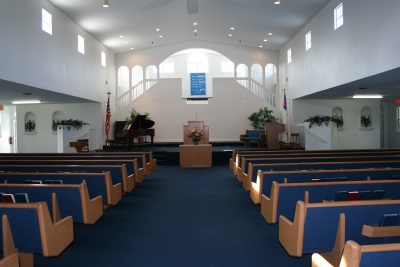 Home | Doctrine | Philosophy | Ministries | Schedule
Location | 100% Sure? | Missions | Pastor